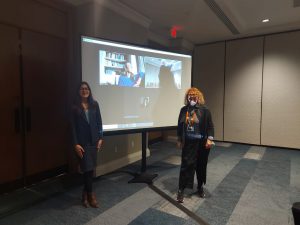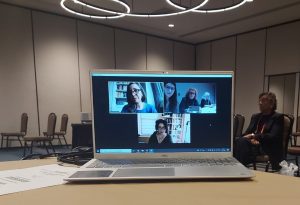 Profesorica Andrea Feldman i asistentica Marijana Kardum organizirale su panel Revisiting World War II Polish and Croat Women's Life-Writings na godišnjoj konferenciji najvažnije slavističke organizacije, Udruženja za slavističke, istočnoeuropske i eurazijske studije (Association for Slavic, East European, and Eurasian Studies) koja se održala u New Orleansu, SAD, uživo od 18. do 21. studenoga 2021. Panelu se izlaganjem pridružila prof. Katherine Lebow s Oxforda, a predsjedala je prof. Nancy Winfield sa Sveučilišta Northern Illinois, dok je diskusiju vodila prof. Marci Shore s Yalea.
Više informacija: https://convention2.allacademic.com/one/aseees/aseees21/index.php?cmd=Online+Program+View+Session&selected_session_id=1855070&PHPSESSID=hbl23oqi4jhhq72e5s161rummk
Profesorica Feldman sudjelovala je i na važnom i dobro posjećenom okruglom stolu Under Siege: Illiberalism and the Attack on Women, Gender, and Sexuality Programs and Policies.
Više informacija: https://convention2.allacademic.com/one/aseees/aseees21/index.php?cmd=Online+Program+View+Session&selected_session_id=1856321&PHPSESSID=hbl23oqi4jhhq72e5s161rummk